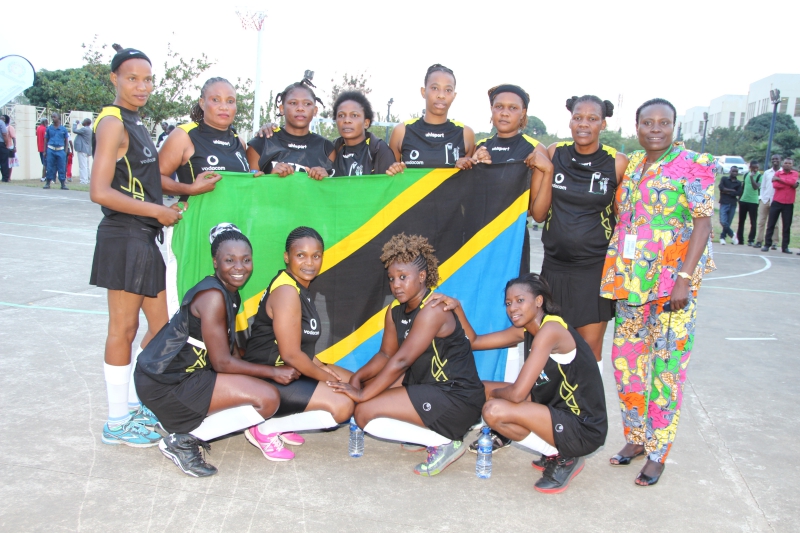 Tanzania Women Netballers thrash Burundi Team
As the 1st EAC Games enters day 4 in Burundi
East African Community Headquarters, Arusha, Tanzania, 21st August, 2018: The EAC Games themedFostering EAC Integration and Peace through Sports taking place at various play grounds within Bujumbura City and at Gitega Stadium entered day four (4) with Tanzania Women Netballers thrashing the Burundi team 79 to 14 in a game played at the ENS play ground in Bujumbura, Burundi.
In another thrilling opening home match between Burundi and Uganda played at the Parque play ground in Bujumbura, Uganda beat Burundi 3 sets to 0 in women volleyball. Burundi takes on Uganda in the 1st home match men volley ball on Tuesday 21 August, while in Women Volleyball; Uganda will play Burundi on Friday 24th August in their away match at the same venue.
In Karate match played on Sunday 19 August, Burundi won the 1st Gold medals of the tournament in both the Individual and Team Kata having taken on Kenya and Tanzania at the Dojo Nationale. Karate Individual and Team Kumite (Burundi Kenya and Tanzania) matches are scheduled on 21st and 24th August respectively at the same venue.
In Boxing, Burundi and Uganda will be on the stage on Saturday 25th and Sunday 26th August at the Dojo Nationale.
Burundi, Kenya, Uganda have registered for Lawn Tennis for Men and Women singles and Doubles which are scheduled to be played on Wednesday 22nd August when Burundi will take on Uganda Men Singles, and Kenya will tussle it out with Uganda in Women Singles at the Entente Sportive arena in Bujumbura.
Kenya will take on Uganda in Men Doubles on Friday 24th August, while Burundi will play against Kenya in Women Doubles. On 26th August, Uganda takes on Burundi in women doubles while Kenya takes on Burundi in Men doubles.
In Rugby 7s (Men), Burundi plays Uganda on 25th August at the Tempete Fields in Bujumbura.
Burundi, Kenya, Tanzania registered Football Women Teams and in the opening football encounter played on Monday 20th August 2018 in Gitega town, Tanzania slashed the host Burundi 8 to 1. Tanzania will take on Kenya (W) on Thursday 23rd August and Kenya versus Burundi (W) will be on Saturday 25th August 2018 also at the Gitega Stadium.
Notes to Editors
The 1st Edition of the East African Community Games (EACoG) is being hosted by the Republic of Burundi from 16th to 30th August 2018 in the city of Bujumbura, and in the town of Gitega, under the themeFostering EAC Integration and Peace through Sports. The Games will take the form of all East Africa Games and will include multiple sports disciplines including: Football, Volley Ball,Karate, Boxing, Tennis, Rugby, and Half Marathon to be competed among the Partner States.
EACoG is a Regional Sports initiative that emanates from the decision of the 20th EAC Council of Ministers, which directed the Secretariat to organize and hold Sports Tournaments on regular basis with partnership of private sector, civil society, voluntary organizations/ institutions/individuals and Development Partners.
EAC Games website: https://www.eac.int/eacog;