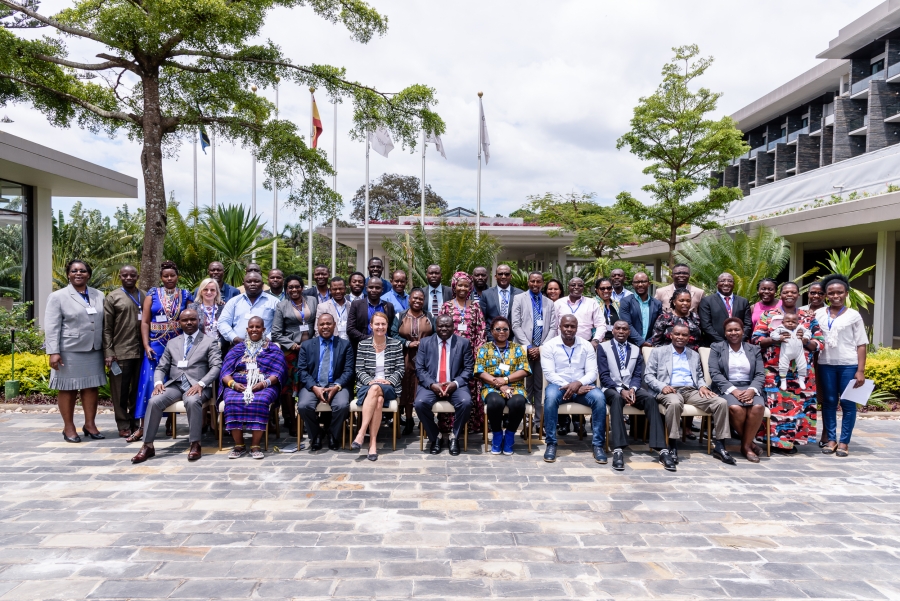 IIDEA Week - East African Citizens doing the extraordinary
Highlighting 40 projects from across the East African Community focusing on the benefits of regional integration
Showcasing real-life applications and initiatives from civil society and the private sector that target women and youth and encourage innovation and collaboration
Projects focusing on health, performing arts, youth unemployment, tourism, ICT, cross border trade and much more
East African Community Headquarters, Arusha, Tanzania, 14th November, 2019: The Civil society and private sector organisations from across the EAC region came together in Arusha, Tanzania to celebrate Incubator for Integration and Development in East Africa (IIDEA) Week, an initiative of the EAC Secretariat in partnership with the Regional Dialogue Committee and with the support of German Development Cooperation through the Deutsche Gesellschaft für Internationale Zusammenarbeit (GIZ).
The 11th -14th September, 2019 IIDEA brought together representatives from the IIDEA Committee, EAC Secretariat, development partners, and other stakeholders, to present their projects and discuss the benefits and challenges and participate in training and evaluation sessions for capacity enhancement.
In his opening remarks, EAC Deputy General Secretary in-charge of Productive and Social Sectors, Hon. Christophe Bazivamo, said that the excellent ranking of EAC among the African Regional Economic Communities was also thanks to initiatives such as IIDEA which are creating success stories of citizens' engagement across all EAC partner States.
"I encourage the IIDEA Project Partners to keep sharing their experiences and learning from others so that your successful projects can be up scaled and enlarged to the benefit of a steadily growing communities of people involved," he said. "Do not become tired of putting more energy, more funds and more commitment for better results and increased reach. It is always possible to become better and work harder towards people-centred and market-oriented integration," underlined the DSG.
He challenged IIDEA stakeholders to take into consideration the issue of ownership, sustainability, accountability, equity and representation of all the Partner States innovators during the implementing their projects.
"The results from IIDEA's first phase were extremely encouraging. Over 25,000 people directly benefited across the region from the products and services developed as part of the program. Sixteen regional promotional events were held, and ten recommendations were made and submitted to the Annual EAC Secretary Generals Forum. The new round of projects we have even higher hopes for.
The focus on women and youth, in particular, is very encouraging," said Mrs Generose Minani, Principal Gender and Community Development Officer, EAC. "There is need for the IIDEA partners to collaborate and work closely with the Ministries responsible for EAC Affairs for sustainability of their projects" added Ms. Generose.
Hon. Peter Mathuki, CEO of the East African Business Council, acknowledged the IIDEA initiative as a huge step towards actualizing the people-centred integration in the EAC. He pledged that EABC will get strongly involved with the initiative and invited all IIDEA partners to participate in the upcoming East African Business and Investment Summit from 28-29 November in Arusha.
"This initiative brings integration closer to the lives of ordinary citizens, enabling them to see the practical results of the policies that have been adopted. It also delivers feedback to EAC policy making bodies, helping to guide the integration process to ensure it meets the needs on the ground. In so doing, we aim to make integration something that East Africans can be proud of," said Dr Kirsten Focken, Cluster Coordinator, GIZ-EAC Programme.
Dr. Kirsten Focken informed the participants that GIZ are committed to approach more development partners to support IIDEA moving forward, support other projects that promote trade as well as encourage harmonization of the IIDEA projects to the EAC sectoral projects. "Sharing experiences and lessons learned is a key focus of the IIDEA programme and it is hoped that it will inform the development and implementation of the agreements and regional policies approved said Kirsten.
Senior Advisor-IIDEA, Ms. Joyce Kevin Abalo-Kimaro in her remarks said the IIDEA projects are being implemented and expanded across the region and Partner States, "we can potentially scale them up and ensure they continue well beyond the initial funding phase''
She disclosed to the participants that ultimately IIDEA works together with partners that not only highlight the diversity of East African integration, but those that push towards holistic and cooperative development.
The first phase of 25 projects - launched by the EAC Secretary General Amb. Liberat Mfumukeko in 2017 – has had many success stories. The new crop of 15 projects has now been announced and coordinators will benefit from the experience of the original implementers at IIDEA Week.
"As an organisation we are very excited and grateful to be part of the IIDEA program. IIDEA is a brilliant idea, but its success lies in our ability to capitalise on the opportunities the Common Market presents. The free movement of goods is an excellent step towards women's empowerment, which we will continue to work towards under this scheme," said Constantine Obuya from the African Centre for Women Information Communication Technology (ACWICT).
Notes to Editor
The Incubator for Integration and Development in East Africa (IIDEA), an initiative of the EAC Secretariat in partnership with the Regional Dialogue Committee and with the support of German Development Cooperation through the Deutsche Gesellschaft für Internationale Zusammenarbeit (GIZ), was launched in 2016 when it was recognised that citizens were often unaware of the opportunities offered by the EAC Common Market. By creating an initiative which supports and showcases cross-border initiatives, it was hoped that people throughout the region would be educated and in turn begin to capitalise on the prospects now open to them.
IIDEA projects receiving a package of financial and technical support are initially chosen for their ability to showcase real life experiences of citizens on regional integration. Each project conducts activities in two or more EAC Partner States and focuses on issues that range from trade facilitation, technological innovation, cultural exchange, gender equality, youth empowerment, cross-border mobility and much more.
To date 25 projects have received funding across six Partner States, with 15 new projects being supported now in a second phase. Three of these projects are being supported through the Intra-Regional Trade Facility (IRTF) that supports private sector projects initiatives focused on cross-border trade facilitation.
Link to project descriptions on website: https://www.eaciidea.net/2019/10/29/east-african-citizens-doing-the-extraordinary/
- ENDS -
For more information, please contact:
Simon Peter Owaka
Senior Public Relations Officer
Corporate Communications and Public Affairs Department
EAC Secretariat
Arusha, Tanzania
Tel: +255 768 552087
Email: sowaka [at] eachq.org
About the East African Community Secretariat:
The East African Community (EAC) is a regional intergovernmental organisation of six Partner States, comprising Burundi, Kenya, Rwanda, South Sudan, Tanzania and Uganda, with its headquarters in Arusha, Tanzania.
The EAC Secretariat is ISO 9001: 2008 Certified