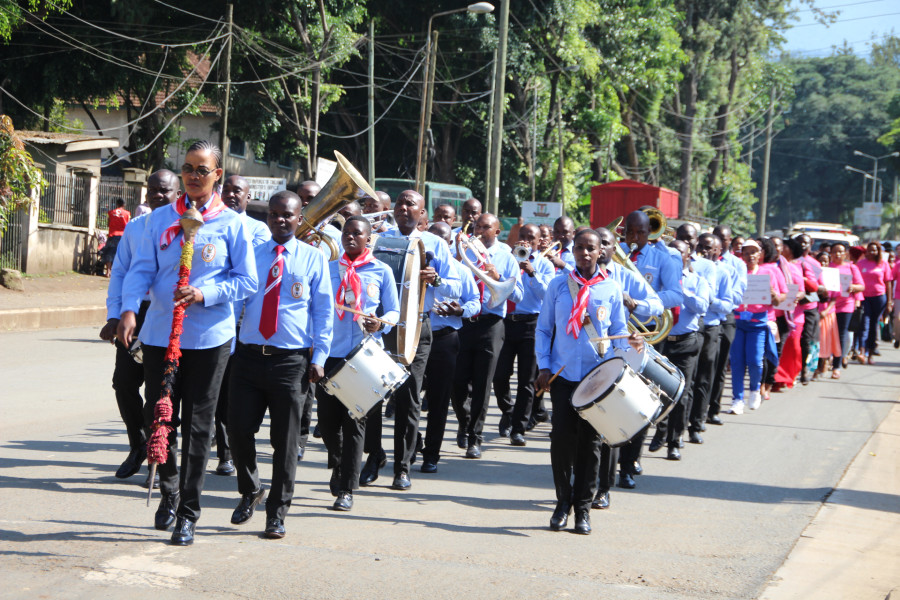 International Women's Day 2020 marked at EAC HQs
East African Community Headquarters, Arusha (Tanzania), 6th March, 2020: Each year on the 8th of March, the World celebrates International Women's Day. It is an opportunity for the East African Community (EAC) Secretariat and its partners to join the rest of the World in taking stock of women's achievements throughout history and across nations.
This years' International Women's day, themed "I am Generation Equality: Women's Rights", with #EachforEqual, IWD 2020 as the Campaign Hashtag was celebrated at the EAC Secretariat with over 200 participants in attendance from across the EAC on the 6th March 2020. The celebration reflected on progress made on women's rights and promotion of generation equality in the EAC region and across the world.
In a speech read on his behalf by the Director of Social Affairs at the Secretariat, Ms. Mary Makoffu, EAC Secretary General, Amb. Liberat Mfumukeko, said that EAC had adopted, among other things, a programme to mainstream gender and promote the rights of women in all EAC policies and programmes, and in regional and continental instruments.
Amb. Mfumukeko said that in order to facilitate the implementation of the programme, EAC had developed a Regional Strategy for Mainstreaming Gender in the EAC Structures, Organs and Institutions, a Training Manual Handbook on Gender Mainstreaming, and an EAC Gender Policy, that gives direction on Gender equality, equity and non-discrimination within the Community.
"In November 2019, a platform called 50 Million African Women Speak was launched in Kigali. It is supported by the African Development Bank and cuts across three Regional Economic Communities (RECs), namely the Common Market for Eastern and Southern Africa (COMESA), the East African Community (EAC) and the Economic Community for West African States (ECOWAS). EAC takes this opportunity to inform you that today the platform is now operational and has started its work," said the Secretary General.
German Development Cooperation supports the IWD 2020 event through the EAC-GIZ programme to advance a gender responsive and an inclusive regional integration process. Dr Kirsten Focken noted that without embracing gender equality in all spheres, regional integration, economic empowerment for women, productivity and bridging the digital divide in the region was not achievable.
Dr Focken called upon policy makers to review laws and regulatory frameworks that hinder gender equality, women's economic participation, and develop specific innovative approaches to promote generation equality and women rights. She concluded her remarks by urging the EAC Partner States to fast track assent of the EAC Gender Equality and Development Bill so that it becomes a reality for the region.
The IWD 2020 celebration called for changes in promoting generation equality and women' rights in the region, celebrated and showcased experiences and testimonies of successful women across traders in the region and shared approaches for the advancement of women's rights in the region. Participants also donated sanitary pads to girls at Meru Primary School in Arusha, Maasai school and Manyara districts, and marched through Arusha town centre.
There was also an exhibition showcasing practical interventions promoting women's rights and empowerment in the EAC many of them from the Incubator for Integration and Development (IIDEA), a joint initiative of the EAC, the Regional Dialogue Committee and the EAC-GIZ programme and East African Women in Business Platform (EAWiBP).
Through its African Union Border Programme, GIZ-EAC supports women cross-border traders to know and use the EAC trade facilitation rules through simplified information packages in English and Kiswahili. The participation of those women small and medium scale cross border traders is crucial to the success of EAC's common market and integration.
As part of demonstrating its gender commitment to the rest of the world in commemorating the international women's day, GIZ –EAC Arusha has participated in the IWD 2020 photo campaigns individually and collectively as team with each staff member crafting tailor-made messages, and also participated in the know- your- rights workshop to discuss and exchange with colleagues and partners on Generation Equality and Women's rights. In addition, staff members also actively participated in the regional commemoration of IWD 2020 march and interactive session, which included testimonials from inspirational women traders and IIDEA partners from the EAC Partner States.
International Women's Day 2020
Theme: We are Generation Equality
Hashtag: #EachforEqual
Arusha Messages for IWD 2020
No Gender Equality No Integration
Equal Access to Financial Services
Respect Women as Equals to Men
Fight for Generation Equality
We Are Happy as Equals
Tags: #EachforEqual