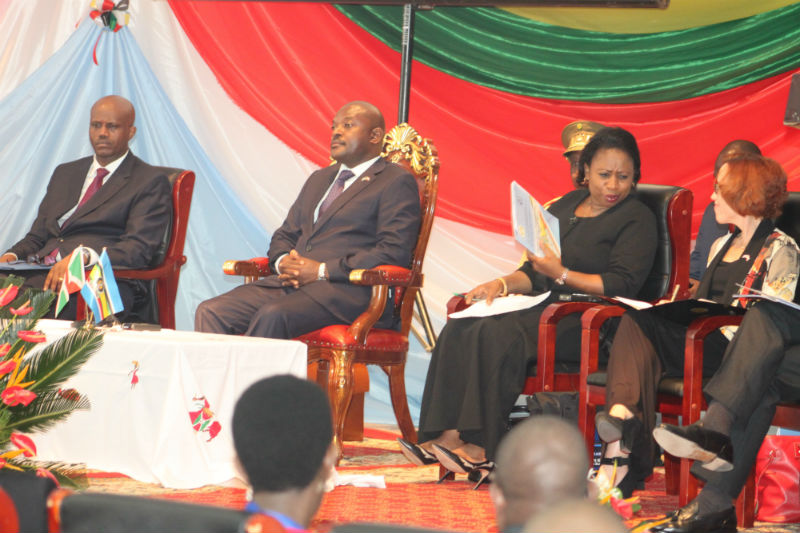 East African Community Secretariat; Bujumbura, Burundi; 29 March 2017:
Burundian President Pierre Nkurunziza has urged researchers from the six East African Community Partner States to set aside the tendency to compete amongst themselves and instead embrace a culture of cooperation in their work.
President Nkurunziza said closer cooperation among researchers and scientists in the region would result in synergy and greater benefits to East Africans. President said this cooperation was all the more relevant at a time when the world is getting smaller with increasingly cross-cutting concerns.
"The increasing complexity of health issues requires partnerships and collaboration of specialities and skills," said President Nkurunziza.
The Burundian leader called on governments and other stakeholders in the region to commit themselves to ensuring that people, their livelihoods, well-being and in particular their health are the focus of climate change.
"I invite the health and environmental sectors within the Member States of the East African Community to exchange their experiences, technical expertise and best practices to improve health and protect the environment," said Nkurunziza.
"I also strongly appeal to economic operators in general, and manufacturers in particular to become more aware of health issues, especially in as much as their actions often have a negative impact on animal and environmental health," he added.
The Head of State said that today climate change increases food insecurity, worsens malnutrition and accentuates the spread of vector-borne diseases such as malaria in East Africa.
"The health situation in our Community therefore calls for a medium- and long-term programme to combat the vectors of these diseases and to educate the public about the change of behaviour in order to have a sound health and an increased awareness for the protection of the environment," said the President.
President Nkurunziza was speaking at the Ecole Polytechnique Professionnelle de Bujumbura when he officially opened the 6th EAC Health and Scientific Conference and International Health Exhibition and Trade Fair. The three-day conference has drawn more than 500 delegates mainly comprising health sector researchers, practitioners and academics, and development partners.
President Nkurunziza said that the free movement of people and goods as enshrined in the EAC Common Market Protocol comes at a cost, adding that such challenges could only be overcome through research.
In these times when borders are opening up, implying not only a greater circulation of goods, people and ideas, science is an indispensable competitive advantage, while research for development brings about solidarity and innovation," he said.
The President said that in recent decades, new diseases had not only emerged but diseases that were considered to be under control had also re-emerged in a much a more serious form.
"The exponential mobility of people helped by transport development, creates conditions conducive to the spread of these pathologies and their geographical spread is now progressing at a more sustained pace than in the past. These diseases originate from various causes: zoonotic, food, chemical or radio-nuclear materials," added Nkurunziza.
Speaking at the function, Hon. Ummy Mwalimu, the Chairperson of the EAC Sectoral Council on Health who is also Tanzania's Minister for Health directed the East African Health Research Commission to relocate from Arusha, Tanzania to Bujumbura where it is supposed to be based immediatly.
Hon. Mwalimu said the Council would not entertain any more excuses from the Commission on why it would not relocate to Bujumbura.
Hon. Mwalimu was responding to concerns raised by Burundi's Health Minister, Hon. Dr. Josiane Nijimbere, who urged the EAC to fast-track the relocation of the EAHRC to Bujumbura.
In his remarks, EAC Secretary General Amb. Liberat Mfumukeko noted that the EAC Partner States which together have a combined population of approximately 168 million people face similar challenges in terms of increased human movement, a high disease burden, inadequate health services, work force, and a limited evidence to guide health policy.
Amb. Mfumukeko said that evidence from research indicates that global climate change has an impact on the emergence and spread of infectious diseases, and that the association between the emergence of infectious disease outbreaks and global climate change had been proven.

- ENDS -
For more information, please contact:
Mr Owora Richard Othieno
Head, Corporate Communications and Public Affairs Department|
EAC Secretariat
Arusha, Tanzania
Tel: +255 784 835021
Email: OOthieno [at] eachq.org
About the East African Community Secretariat:
The East African Community (EAC) is a regional intergovernmental organisation of five Partner States, comprising Burundi, Kenya, Rwanda, Tanzania and Uganda, with its headquarters in Arusha, Tanzania.