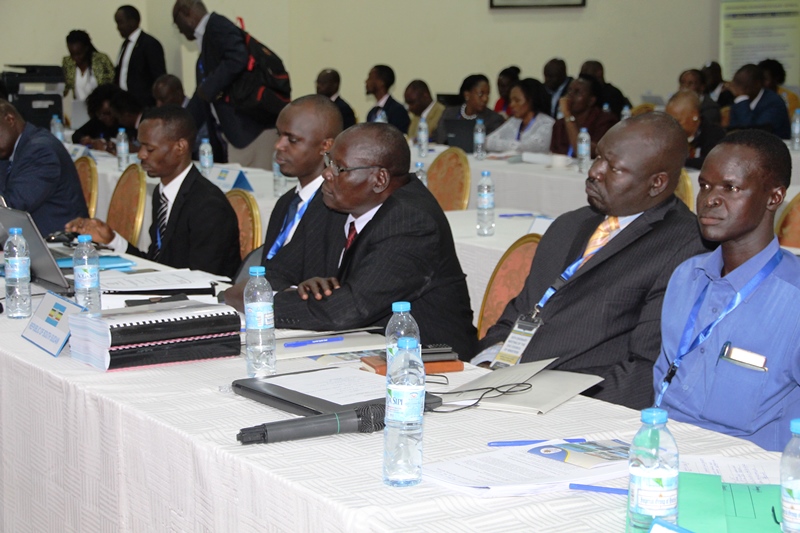 36th Meeting of the EAC Council of Ministers underway in Kampala, Uganda
East African Community Headquarters, Arusha, 27th November 2017:
The 36th meeting of the EAC Council of Ministers is taking place from 27th November to 2nd December, 2017 at the Imperial Royale Hotel in Kampala, Uganda.
Themed Enhancing Socio - Economic Development for Deeper Integration of the Community, the 36th meeting of the Council started today with the Session of Senior Officials which will run up to Wednesday 29th November, 2017. The session of the Coordination Committee (Permanent /Principal/Under Secretaries) is on 30th to 1st of December while the Ministerial Session will be held on Saturday 2nd December, 2017.
The meeting is considering several matters geared towards deepening and widening the regional integration agenda that include the: Report on the implementation of Previous Decisions of the Council; Report of the Office of the Secretary General; Report on Planning and Infrastructure, and; Report on Productive and Social Sectors.
Other Reports to be considered are: the Report on Political Matters; Customs and Trade; Report on the Finance and Administration Matters; and Reports of other EAC Organs i.e. East African Legislative Assembly and East African Court of Justice.
Reports of EAC Institutions are also on the agenda namely the; East African Civil Aviation Safety, Security and Oversight Agency; Lake Victoria Fisheries Organization; Inter-University Council for East Africa; East African Development Bank; Lake Victoria Basin Commission; East African Science and Technology Commission; East African Kiswahili Commission, and; the East African Health Research Commission
The Council of Ministers is the Policy Organ of the Community. It consists of the Ministers responsible for East African Community/regional cooperation of each Partner State and such other Ministers of the Partner State as each Partner State shall determine. Among its functions, the Council promotes, monitors and keeps under constant review the implementation of the programmes of the Community and ensures the proper functioning of the regional organization.
-ENDS-
For more information, please contact:
Mr Owora Richard Othieno
Head, Corporate Communications and Public Affairs Department
EAC Secretariat
Arusha, Tanzania
Tel: +255 784 835021
Email: OOthieno [at] eachq.org
About the East African Community Secretariat:
The East African Community (EAC) is a regional intergovernmental organisation of five Partner States, comprising Burundi, Kenya, Rwanda, Tanzania and Uganda, with its headquarters in Arusha, Tanzania.
The EAC Secretariat is ISO 2008:9001 Certified