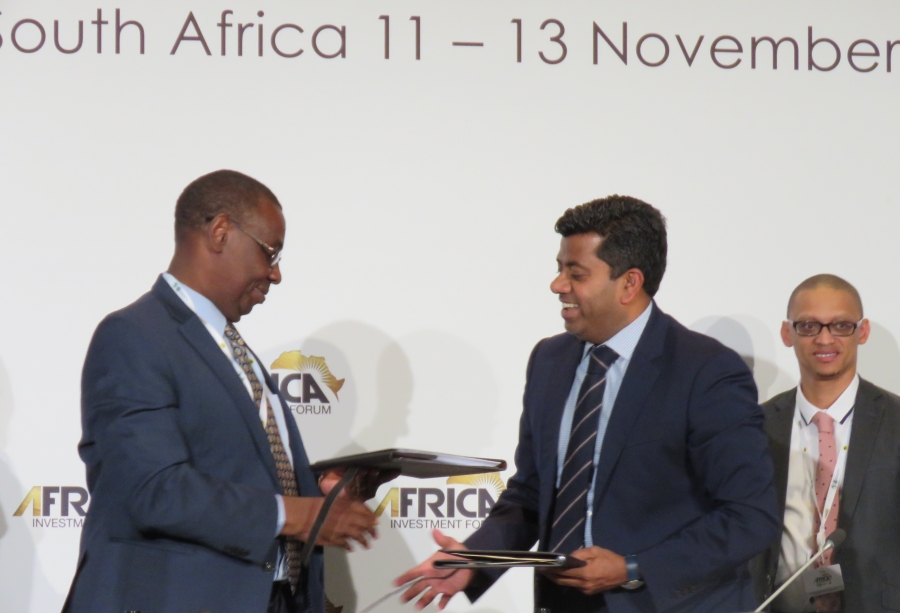 EAC signs Memorandum of Understanding with Development Bank of Southern Africa (DBSA)
East African Community, Sandton, South Africa 13th November, 2019: The East African Community (EAC) and the Development Bank of Southern Africa (DBSA) signed a strategic partnership agreement at the African Investment Forum in South Africa.
The strategic partnership with EAC will enable the DBSA to support collaborative initiatives that will crowd-in resources for the development of infrastructure that promotes regional integration. The partners will also work together on project preparation and ultimately co-financing of projects and capacity building.
Speaking at the signing ceremony Mohan Vivekanandan, DBSA's Group Executive said, "These partnerships are vital for the development of infrastructure on the continent. The signing of the two strategic partnerships today with EAC will enable us to work together and support African governments in expediting key infrastructure projects."
On his part, Mr Kenneth Bagamuhunda, EAC Director General - Customs and Trade, speaking on behalf of the EAC Secretary General, Liberat Mfumukeko, said that the scope of partnership with DBSA is quite big and comes at an opportune time when EAC is mobilizing funding to implement the Heads of States approved priority projects in infrastructure and health, as well as projects in other sectors.
EAC is looking forward to leverage on this partnership to support the development, packaging, and financing of these projects.
Development Bank of Southern Africa (DBSA)
The Development Bank of Southern Africa (DBSA) is a leading Development Finance Institution (DFI) in Africa. Established in 1983, the DBSA participates across the entire infrastructure value chain and provides planning, project preparation, financing, and implementation support for economic and social infrastructure in South Africa, SADC and the rest of the African continent. The institution's mission is to improve people's lives, boost economic growth and promote regional integration through infrastructure development.
- ENDS -
For more information, please contact:
Simon Peter Owaka
Senior Public Relations Officer
Corporate Communications and Public Affairs Department
EAC Secretariat
Arusha, Tanzania
Tel: +255 768 552087
Email: sowaka [at] eachq.org
About the East African Community Secretariat:
The East African Community (EAC) is a regional intergovernmental organisation of six Partner States, comprising Burundi, Kenya, Rwanda, South Sudan, Tanzania and Uganda, with its headquarters in Arusha, Tanzania.
The EAC Secretariat is ISO 9001: 2008 Certified