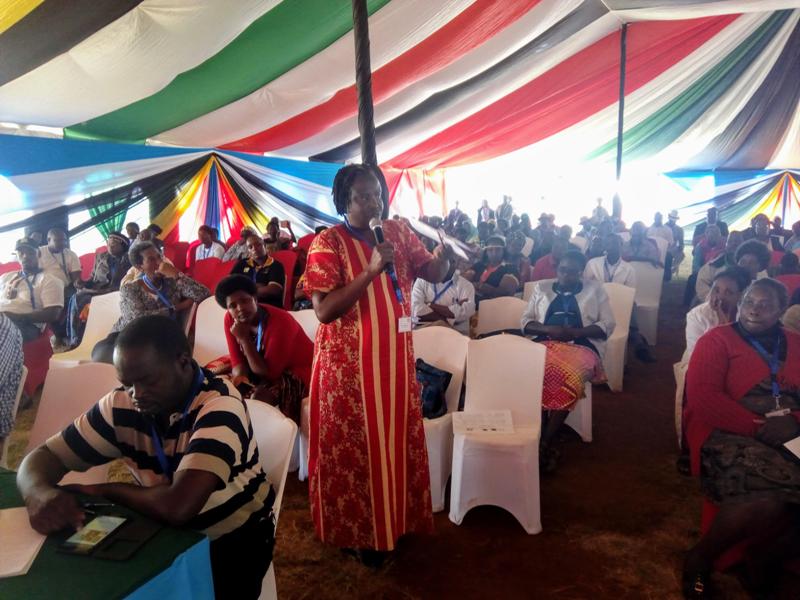 Intra-EAC Trade still very low, says EAC Official
East African Community Headquarters, Arusha, Tanzania, 6th December, 2018: Intra-regional trade within the East African Community is currently very low standing at just less than 20%.
The Director of Trade at the EAC Secretariat, Alhajj Rashid Kibowa, said that this was extremely low compared to the Southern African Development Community (SADC) where intra-regional trade levels stand at 46% and the EU at approximately 67%.
Alhajj Kibowa disclosed that from next year onwards, the exhibitors and their stalls at the Annual EAC Jua Kali/Nguvu Kazi Exhibition and Symposium will not be arranged according to the Partner States but according to product sectors to enhance information sharing, inter-sectoral/product benchmarking, and striking business deals amongst the exhibitors.
In the previous and ongoing 19th exhibition, exhibitors and their stalls have been arranged according to Partner States and in alphabetical order.
Alhajj Kibowa, who was addressing participants attending a symposium on Products Value Addition taking place on the sidelines of the 19th EAC Jua Kali/Nguvu Kazi Exhibition at the Eldoret Sports Club, decried the low levels of intra-EAC trade.
"Partner States need to take advantage of regional integration initiatives like this Jua Kaliexhibition in order to scale up trade amongst themselves, otherwise the statistic is still lower but with a lot of potential for expansion," he said.
The Director further said that that unlike the earlier exhibitions, the ongoing exhibition and future ones would be complemented with a strong daily symposium purposely to empower the exhibitors with knowledge, skills and attitudinal change needed for the growth of the informal sector.
Earlier, the Managing Director of J&L Enterprises, Mrs. Louise Judicate Mosha made a presentation on Product Value Edition to an enthusiastic audience composed mainly of women entrepreneurs from the Partner States at the exhibition.
Mrs. Mosha, a Tanzanian who owns the Dar es Salaam-based Company dealing with Agro-processing and Handicrafts, took the participants through her practical experience in product value addition and becoming a successful entrepreneur.
She said J&L Enterprises started by making candles but has now graduated and spread its product chain to include agro-processing and handicrafts.
Answering questions raised on packaging, value addition and standards by the participants, the EAC Principal Standards Officer, Mrs. Stella Apolot, said that packaging was an integral part of value addition as it contributes to the safety, quality, acceptance and competitiveness of the products before the consumers.
She said packaging technology ranges from simple to complex ones in terms of the safety requirements and design, amongst others, and that products have different packaging requirements to ensure that the design is right and the quality is right in protecting the integrity of the product being packaged.
"Packaging industry in the EAC is less developed and remains a big challenge for most small and medium enterprises in identifying the right packaging and the costs involved," said Mrs. Apolot.
On Food Additives, the EAC Principal Standards Officer said that they play a big role in value addition to achieve customer quality requirements. As component of food, food additives are subject to pre-market approval by by experts qualified by scientific training and experience to evaluate their safety under the conditions of intended use.
"Food additives, despite being a necessity in value addition, may trigger allergic reactions and possibly lead to other serious health issues" and therefore MSMEs need to know the recommended food additives and quantities for each product and the information is readily available at Codex Allimentarius Commision website http://www.fao.org/fao-who-codexalimentarius/codex-texts/list-standards/jp/; "Codex Standards for Food Additives," said the Standards expert.
The daily symposium continues with the Republic of Rwanda expected to make a presentation on Standards, Quality Assurance, Metrology and Testing (SQMT) on Thursday, 6th December, 2018; Uganda will present on Benefits and opportunities from EAC integration to SMEs on Friday, 7th December, 2018; Burundi will tackle EAC Rules of Origin on Saturday, 8th December, 2018; while the Republic of South Sudan will present on MSMEs development on Sunday, 9th December, 2018.
Earlier on 3rd December, the Republic of Kenya made a presentation on cross-border trade; simplified trade regime and tackling non-tariff barriers (NTBs). Kenya's Anti Counterfeit Agency also made a presentation on the same day. The United Republic of Tanzania made a presentation on Product Value Addition.
The daily symposium starts at 10.00 am and continues until midday at the Show ground.
-ENDS-
For more information, please contact:
Mr Owora Richard Othieno
Head, Corporate Communications and Public Affairs Department
EAC Secretariat
Arusha, Tanzania
Tel: +255 784 835021
Email: OOthieno [at] eachq.org
About the East African Community Secretariat:
The East African Community (EAC) is a regional intergovernmental organisation of five Partner States, comprising Burundi, Kenya, Rwanda, Tanzania and Uganda, with its headquarters in Arusha, Tanzania.
The EAC Secretariat is ISO 9001:2008 Certified