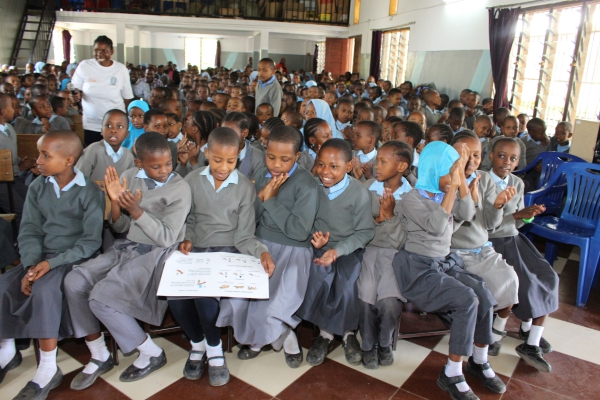 Better Health through Healthy Animals: EAC Secretariat Joins World Rabies Day Celebration in Arusha
East African Community Secretariat; Arusha, Tanzania; 02 October 2017:
'Today I learned that you can be bitten by a dog when you bother it and when it is sick with Rabies. I also learned that if you care for dogs they will be very friendly', says 11 year old Clara Yuda Opasi, who is in Standard 5 C of the Imani Primary School in Arusha's Sombeteni ward during the celebrations of the World Rabies Day at Imani Primary School on 28th September ,2017.

The Imani Primary School is one out of 70 primary schools that participated in the celebrations of the World Rabies Day and Clara is one out of nearly 600 pupils who attended the awareness raising campaign around the risks connected with rabies at Imani Primary School alone.


Rabies is an infectious disease of public health concern, globally and in particular in the East African region. Rabies is the most fatal viral-zoonotic disease transmitted between animals and humans. Once an infected person shows signs, there is no cure.

Many humans and most of them children get infected by rabies through dog bites. The World Health Organization (WHO) recommends the vaccination of dogs as the most effective intervention against rabies. Decreasing rabies in dogs directly impacts on public health by reducing the transmission to humans. It is worth noting that care given to dogs can also make a huge difference in the fight against rabies.

This is one of the messages of Bernadette Mathias of Mbwa wa Africa, who thrilled the Imani teachers and pupils with her advice on how to care for dogs, how to prevent being bitten and what to do in case this still happens.

The East African Community (EAC) Secretariat in cooperation with the Deutsche Gesellschaft für Technische Zusammenarbeit (GIZ) GmbH joined the awareness campaign on World Rabies Day for the first time this year to set a sign that rabies is not only a Tanzanian, but a regional concern. 'I would like to see this campaign rolled out in all our Partner States next year', said Fahari Marwa, Head of the EAC's Agriculture and Food Security Department.

The coming Saturday and Sunday the World Rabies Day celebrations will culminate in free of fee vaccinations of dogs all over Arusha City. Jens Fissenebert of Mbwa wa Africa urged the pupils to bring their dogs to the stations nearest to their homes. Geoffrey Muchai, Head of the Imani Primary School agreed with Dr. Onesma Mandike from the Arusha City Council and Joel Changalucha from the Ministry of Agriculture in the meaningfulness of the awareness day: 'This campaign is very good and I have learned many new things, for example that dogs should not be killed to prevent rabies or about the high number of people who die each year from rabies – 1500, that is a lot'.

- ENDS -
For more information, please contact:
Mr Owora Richard Othieno
Head, Corporate Communications and Public Affairs Department
EAC Secretariat
Arusha, Tanzania
Tel: +255 784 835021
Email: OOthieno [at] eachq.org
About the East African Community Secretariat:
The East African Community (EAC) is a regional intergovernmental organisation of five Partner States, comprising Burundi, Kenya, Rwanda, Tanzania and Uganda, with its headquarters in Arusha, Tanzania.