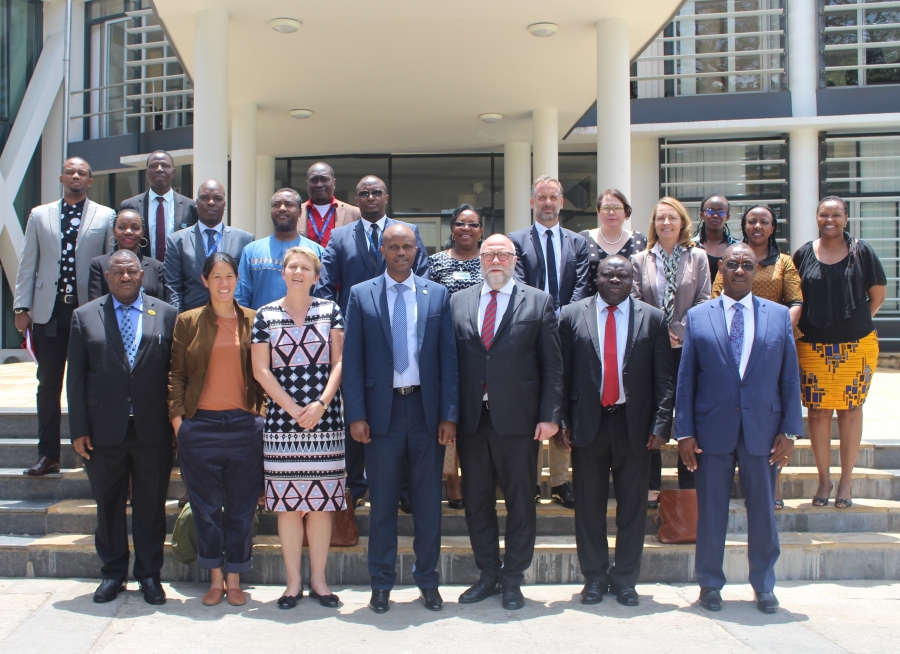 Personal Representative of the German Chancellor for Africa visits EAC
East African Community Secretariat, Arusha, Tanzania, 28th February, 2020: The Personal Representative of the German Chancellor for Africa, Mr. Guenter Nooke who was on a working visit to Tanzania, today held bilateral talks with EAC Secretary General Amb. Liberat Mfumukeko at the EAC Headquarters in Arusha.
The two leaders discussed development cooperation between the Federal Republic of Germany and the EAC on matters relating to regional economic integration, with particular focus on Health and Agriculture, as well as Customs and Trade sectors.
During the discussions, Amb Mfumukeko said the EAC and Germany have enjoyed a long standing partnership for the last 20 years, with commitments from the German Government amounting over Euros 470 million.
The EAC Secretary General has requested Germany, through Mr. Nooke, to consider more support in Agriculture, Industrial development especially Agro-processing, and ICT sectors as part of institutional transformation in addition to the areas that the Federal Republic is currently supporting.
Amb Mfumukeko reiterated that the EAC was deeply interested in penetrating the German and European market in general, which he described as being large and vibrant, adding that the region also hopes to benefit from technology transfer from Europe's largest economy.
On his part, Mr. Nooke noted the impressive progress in the EAC integration process and re-affirmed to the Secretary General his country's continued support to the EAC Project and programs.
"We are very happy with our relationship with EAC and I am looking forward to a strong partnership in the development of the regional bloc", asserted Mr. Nooke.
Accompanying the Secretary General at the meeting with the Personal Representative of the German Chancellor for Africa were the EAC Deputy Secretaries General Hon. Christophe Bazivamo (Productive and Social Sectors) and Eng. Steven Mlote (Planning and Infrastructure), the EAC Director General Customs and Trade, Mr. Kenneth Bagamuhunda and other senior staff of the EAC.
-ENDS-
For more information, please contact:
Simon Peter Owaka
Senior Public Relations Officer
Corporate Communications and Public Affairs Department
EAC Secretariat
Arusha, Tanzania
Tel: +255 768 552087
Email: sowaka [at] eachq.org
About the East African Community Secretariat:
The East African Community (EAC) is a regional intergovernmental organisation of six Partner States, comprising Burundi, Kenya, Rwanda, South Sudan, Tanzania and Uganda, with its headquarters in Arusha, Tanzania.
The EAC Secretariat is ISO 9001: 2015 Certified