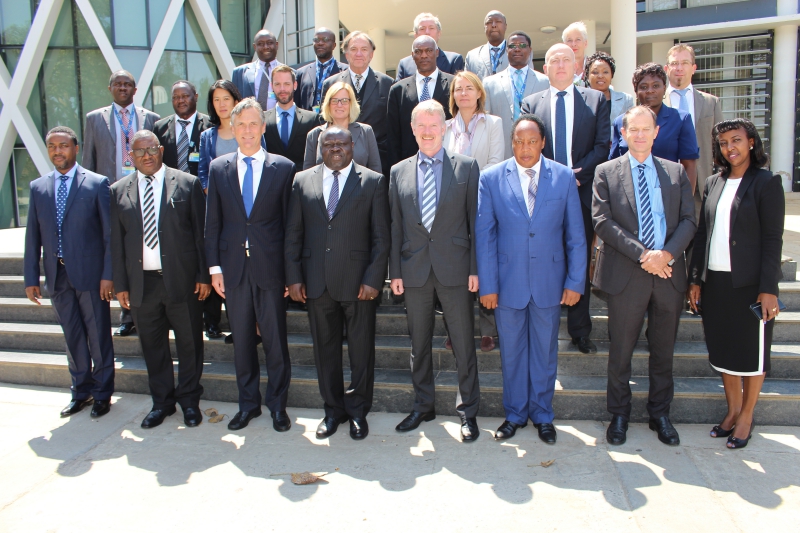 East African Community Secretariat; Arusha, Tanzania; 19 September 2017:
The Federal Republic of Germany will continue providing technical and financial support to the East African Community Partner.
The two priority areas for German support to the EAC are regional economic integration and health with German support since 1998 adding up to 285 million euros.
The Deputy Head of the East Africa Division of the Federal Ministry of Economic Cooperation and Development, Mr. Georg Rademacher, disclosed that in the last two years alone, Germany has committed 60 million euros for the procurement of life-saving vaccines for children in the EAC.
Mr. Rademacher further said Germany had also allocated 4 million euros for a Centre of Excellence for Information and Communication Technology, 3 million euros for pandemic preparedness and another 5 million euros to support a scholarship programme.
"These commitments were all done on top of the 67 million euros pledged during government negotiations in 2015," he said.
He emphasised the importance of incorporating the private sector, civil society and other stakeholders in EAC activities, adding that they are key drivers for effective implementation and deeper integration.
Mr. Rademacher was speaking during the opening session of one-day bilateral consultations on development cooperation between Germany and the EAC. The talks were aimed at coming up with a new development cooperation framework for the 2019-2022 period.
In his remarks, Hon. Christophe Bazivamo, the EAC Secretary General in charge of Productive and Social Sectors, noted that the EAC-German Cooperation 2019-2022 comes against the backdrop of positive economic performance in the region that was realized under the 4th EAC Development Strategy 2012-2017.
Hon. Bazivamo said cooperation between the EAC and Germany had resulted in notable achievements in health and pharmaceutical sectors; trade and customs; promotion of gender and education; monetary harmonization; institutional capacity strengthening and support to the Partnership Fund.
Germany's Ambassador to the EAC, Dr. Dieter Waechter, said the cooperation between Germany and the EAC goes back a long way, adding that it had strengthened bilateral relations in addition to enabling the EAC make major milestones in the integration process.
Also present at the function were the GIZ Country Director Ernst Hustädt, KfW (German Development Bank) Tanzania Office Director Dr. Helmut Schön, EAC Deputy Secretary General in charge of Planning and Infrastructure, Eng. Steven Mlote and the Director General, Customs and Trade, Mr. Kenneth Bagamuhunda. Others were the Lake Victorian Basin Commission Executive Secretary, Dr. Said Ali Matano, the Inter-University Council of East Africa Executive Secretary, Prof Alexandre Lyambabaje, and Dr. Anthony Kafumbe, the Counsel to the Community.

- ENDS -
For more information, please contact:
Mr Owora Richard Othieno
Head, Corporate Communications and Public Affairs Department
EAC Secretariat
Arusha, Tanzania
Tel: +255 784 835021
Email: OOthieno [at] eachq.org
About the East African Community Secretariat:
The East African Community (EAC) is a regional intergovernmental organisation of five Partner States, comprising Burundi, Kenya, Rwanda, Tanzania and Uganda, with its headquarters in Arusha, Tanzania.