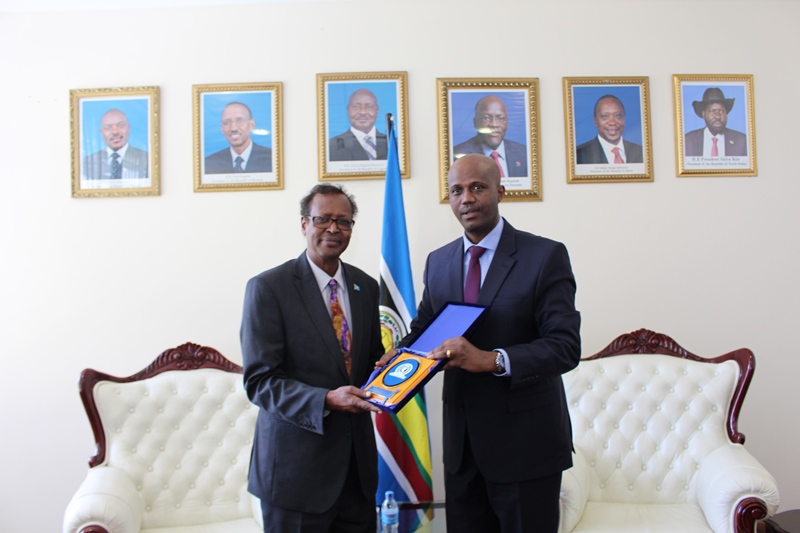 East African Community Headquarters, Arusha, Tanzania, 12th November, 2018: The Ambassador of the Federal Republic of Somalia to the United Republic of Tanzania, H.E. Mohamed H. Abdi today paid a courtesy call on Amb. Liberat Mfumukeko, the Secretary General of the East African Community to follow up on the Somalia's application to join the EAC bloc.
Speaking during the discussion, the EAC Secretary General thanked the Federal Republic of Somalia for their interest in joining the East African Community. He assured Amb. Mohamed that the process is on course and the Secretariat will be sending a preliminary team to Somalia later this month to assess the level of readiness of Somalia as the preparation for the verification exercise team which will be constituted by the EAC Council of Ministers.
Article 3 (3) of the EAC Treaty sets out conditions for membership; including adherence to universally acceptable principles of good governance, democracy, the rule of law, observance of human rights and social justice.
Others are contribution towards the strengthening of integration within the East African region; geographical proximity to and inter -dependence between it and the Partner States; establishment and maintenance of a market driven economy.
On his part, H.E Abdi noted that long term development of each EAC economy was influenced by the success of the regional integration efforts and that individual EAC economies are too small to compete effectively in international markets.
Present at the meeting were the EAC Deputy Secretaries General in charge Planning and Infrastructure as well as Finance and Administration , Engineer Steven Mlote, and that of Productive and Social Sector, Hon. Christophe Bazivamo, Counsel to the Community, Dr Anthony L. Kafumbe and other officials from the EAC Secretariat.
-ENDS-
For more information, please contact:
Mr Owora Richard Othieno
Head, Corporate Communications and Public Affairs Department
EAC Secretariat
Arusha, Tanzania
Tel: +255 784 835021
Email: OOthieno [at] eachq.org
About the East African Community Secretariat:
The East African Community (EAC) is a regional intergovernmental organisation of five Partner States, comprising Burundi, Kenya, Rwanda, Tanzania and Uganda, with its headquarters in Arusha, Tanzania.
The EAC Secretariat is ISO 9001:2008 Certified