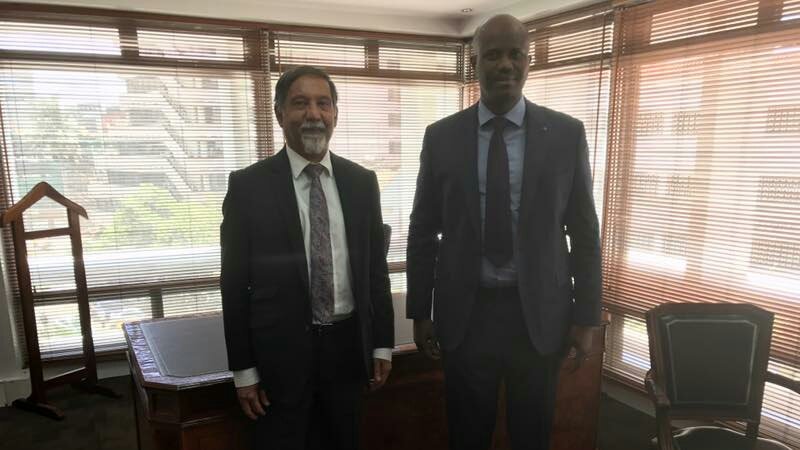 East African Community Secretariat; Nairobi, Kenya; 12 April 2017:
The East African Community (EAC) Secretary General, Amb. Liberat Mfumukeko met the Diplomatic Representative of the Aga Khan in the Republic of Kenya, Dr. Azim Lakhani on Tuesday 11th April, 2017, in Nairobi, Kenya.
The meeting was a follow-up of the Secretary General's visit to His Highness the Aga Khan on 11th November 2016, where the Secretary General and His Highness the Aga Khan explored the possibility of expanding the Aga Khan Integrated Health Systems across all the EAC Partner States, especially in secondary cities like Kisumu, Mombasa, Arusha, Mwanza, Entebbe, Jinja, Butare and Ngozi, among others.
Amb. Mfumukeko had also requested capacity building support from His Highness the Aga Khan to the East African Community through scholarship programmes to enhance capacity of staff in different projects and programmes.
The two officials discussed in detail the Financing Agreement signed recently between the Aga Khan Development Network (AKDN) and the French Co-operation Agency (AFD) for the expansion of hospitals in Kisumu and Mombasa worth USD28 Million. Another Financing Agreement to expand the Aga Khan hospital in Dar es Salaam, Tanzania, had already been signed and implementation is on-going.
In Investment Promotion Service (IPS), especially in the areas of Agro-processing by the Aga Khan, Dr. Lakhani informed the Secretary General that currently, AKDN had an Export Agro-processing industry to empower rural areas from production to export. This is already being implemented in Kenya with a programme of 7,000 farmers involved through Premier Food Inc (food processing); Frigoken (vegetable processing) and All fruit (fruits processing), amongst others.
The Secretary General urged AKDN to ensure similar programmes are replicated in other EAC Partner States. In this regard, it was agreed that an EAC Delegation would visit the AKDN Food Processing Plant in Ruiru and Murang'a in Kenya with a view to rolling it out to other Partner States.

- ENDS -
Notes to Editor:
The East African Community and Aga Khan Development Network have a Memorandum of Understanding signed in 2012 specifying the areas of cooperation. The areas include the following, amongst others:

(i) Poverty reduction, employment creation and income generation programmes in selected regions of the EAC Partner States through stronger regional and local markets by investing in infrastructure, social and educational enterprises, media and communications, financial services, among others; 


(ii) Enhancement of quality standards in the fields of education and health through public-private-partnerships and establishment of Centres of Excellence; 


(iii) Promotion of the expansion of the Aga Khan University in East Africa through various campuses; and 


(iiii) Creation and promotion of mechanisms for common accreditation in EAC for professional and institutions, especial in the domain of education and healthcare.
For more information, please contact:
Mr Owora Richard Othieno
Head, Corporate Communications and Public Affairs Department
EAC Secretariat
Arusha, Tanzania
Tel: +255 784 835021
Email: OOthieno [at] eachq.org
About the East African Community Secretariat:
The East African Community (EAC) is a regional intergovernmental organisation of five Partner States, comprising Burundi, Kenya, Rwanda, Tanzania and Uganda, with its headquarters in Arusha, Tanzania.