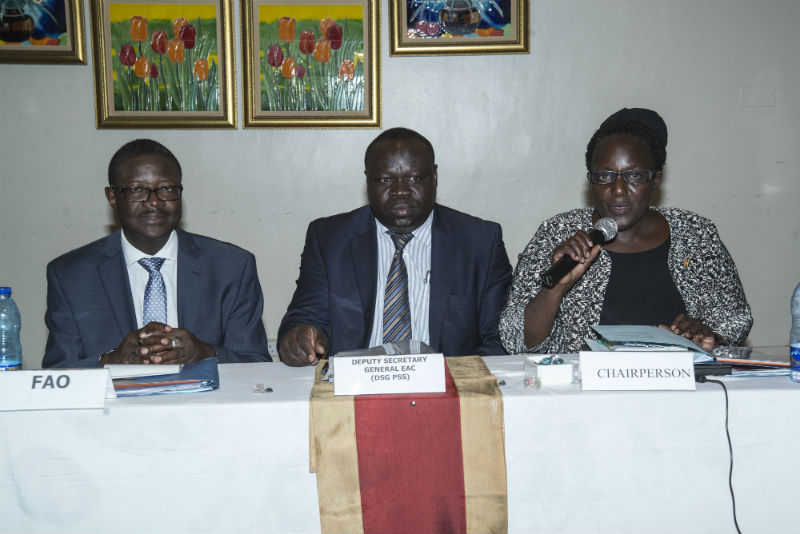 East African Community Secretariat; Arusha, Tanzania; 10 June 2017:
A regional inception workshop to launch the joint East African Community (EAC) and Food Agriculture Organization (FAO) Project on Youth Employment in the Agricultural Sector in the EAC kicked off in Dar es Salaam, Tanzania.
Presiding over the opening session, Hon Christophe Bazivamo, the EAC Deputy Secretary General (DSG) in-charge of Productive and Social Sectors noted that the youth constitute the largest segment of the population across the EAC.
Hon. Bazivamo, however, said that economic growth within the Partner States was not generating enough jobs especially for the region's ballooning number of young men and women.
"Rural poverty and food security remain persistent and are linked with this problem of jobless growth," said Hon. Bazivamo.
The DSG informed the meeting that EAC with financial and technical support from the FAO had prioritized the promotion of youth employment in the agricultural sector as one of the Community's flagship initiatives.
"This will be pursued under a Technical Cooperation Project (TCP) on Promoting Youth Employment in the Agricultural Sector in the EAC. The overall objective of the TCP is to contribute to reducing rural poverty and boosting economic growth by supporting the creation of better opportunities for youth in the agricultural sector," said the DSG.
The DSG said it was unfortunate that Africa spends over $35 billion on food imports, which is a huge economic burden.
"Unless the current trend is reversed, Africa will spend $110 billion on food imports by 2025. The amount of money channeled to imports could make a big impact if invested to promote agricultural production and productivity," he said.
He identified post-harvest food loss as one of the largest contributing factors to food and nutritional insecurity in Africa with more than 30 per cent of food produced for human consumption being lost or wasted through post-harvest losses, adding that the youth if supported could transform post-harvest losses into investment opportunities through value addition and agro-processing ventures.
The DSG urged EAC Partner States to look at agriculture in a multi-sectoral perspective, noting that Inclusive agricultural growth and transformation calls for an integrated approach.
He said that infrastructure development is critical for catalyzing transformation of the agriculture sector.
"The lack of infrastructure drives up the cost of doing business and also discourages the private sector from investing in agricultural value chains. Linkages with agro- industrialization fundamental. For instance agroprocesing would help stimulate production by expanding and enhancing access to markets."
The DSG emphasized the need to identify youth involved in transformational agricultural initiatives so that they are recognized and rewarded, noting that this would motivate more young people to recognize that investing in agriculture was a highly profitable initiative.
Speaking at the event, Dr Patrick Kormawa, the FAO Sub-regional Coordinator for Eastern Africa and FAO Representative to the African Union and the UN Economic Commission for Africa, highlighted the worrying demographic trends in the EAC.
Dr. Kormawa noted that the EAC was becoming home to an increasingly young population.
"In 2010, East Africa's youth accounted for 45% of the total population. This number continues to grow and it is estimated that 75% of East Africa's total population will be under the age of 34 in 2030," said Dr. Kormawa, adding that true rural transformation cannot be accomplished in the EAC without empowering the youth as actors of change.
"FAO believes that boosting youth employment in agricultural value chains is a low hanging fruit for harvesting sustainable development, food security, and rural poverty reduction," said the FAO official.
He cited the strong comparative advantage of FAO in supporting rural institutions and agrifood value chains, especially small-scale, self-employed and informal agricultural occupations.
"The niche of FAO lies in capacity development and institutional strengthening," said Dr. Kormawa.

- ENDS -
For more information, please contact:
Mr Owora Richard Othieno
Head, Corporate Communications and Public Affairs Department
EAC Secretariat
Arusha, Tanzania
Tel: +255 784 835021
Email: OOthieno [at] eachq.org
About the East African Community Secretariat:
The East African Community (EAC) is a regional intergovernmental organisation of five Partner States, comprising Burundi, Kenya, Rwanda, Tanzania and Uganda, with its headquarters in Arusha, Tanzania.
The EAC Secretariat is ISO 9001: 2008 Certified